Do you have a bourbon loving dad? Still haven't found the perfect, or any, gift yet? Don't worry, we've got you covered. We've put together a list of 8 bourbon gifts, at all price points, that you can order from your couch and dad can enjoy at home! Some of these items the two of you can even enjoy together!
1. Justins' House of Bourbon's 'Bourbon Lovers Cocktail Gift Set'
Get dad everything he needs to set up his home bar with the essentials featuring best selling Ernest Hemingway quote glassware and Justins' House of Bourbon cocktail mix and aromatic bitters, aka get dad everything he needs to make an Old Fashioned at home (minus the bourbon)!
$55.00 – Click Here to Order
2. Bourbon Outfitter's Bourbon T-Shirt
Get dad a t-shirt that his friends will envy! A bourbon t-shirt and one of his favorite bottles is the perfect pairing. All t-shirts from the Bourbon Outfitter are a super soft poly blend and are available in S-2XL. Bonus, many styles of Bourbon Outfitter's shirts are on sale for half price!
$12-$25 – Click Here to Order
3. 'Nose Your Bourbon' Kit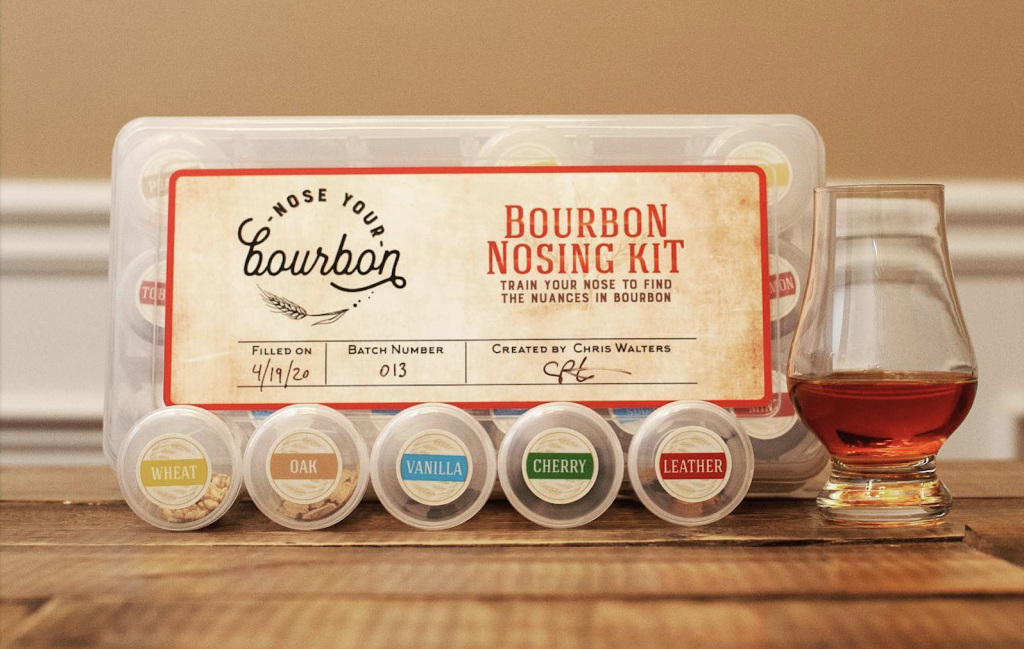 Help dad to train his nose to recognize the unique aromas in bourbon! Other kits on the market can be very pricy. This kit comes in at a great price and uses real ingredients to help train your nose. The kit includes 18 elements in screw top containers and instructions for how to get the most out of the kit, all held in a convenient travel case.
$69.00 – Click Here to Order
4. Flaviar 'Club Membership'
Sign dad up for Flaviar's 'Club Membership!' Quarterly boxes are sent out containing 3 whiskey samples and a full size bottle. The samples will allow dad to test out a few bourbons at home, which is particularly nice since he can't try out bourbon by the pour at his local bar right now. Flaviar also hosts live tasting events and has in depth tasting notes for all the spirits on their site!
$190 for half a year or $300 for a whole year – Click Here to Order
5. Pappy for your Pappy
Don't have the cash to splurge on an actual bottle of Pappy for dad? No problem. Gift him a t-shirt from the Pappy and Co. line. Pappy label tees come in both short and long sleeves, with super soft preshrunk fabric to make them as comfy as possible.
$30-$14 – Click Here to Order
6. Hacking Whiskey by Aaron Goldfarb
Hacking Whiskey is more than just a coffee table book, it's a collection of ingenious ideas and shortcuts to help you temper your whiskey to greatness in the privacy of your own home. Aaron Goldfarb, a whiskey geek, writer, and DAD, is reporting from the field, where he's gathered tips, recipes, and insider secrets about the weird yet delightful ways in which whiskey is being used today. Things like making cheap homemade blends that taste fancy, infusing whiskey with marijuana smoke, adding it to infinity bottles, and doing bone marrow luge shots, to name a few. 
$15 – Click Here to Order
7. Luxury Cigar Club Membership
Does your dad like a smoke while sipping his bourbon? Gift him a monthly Luxury Cigar Club membership. Your dad will get either 3 or 5 cigars each month, depending on what membership you choose. This will ensure his humidor is always full when he's ready to enjoy and bourbon and cigar!
$39.95 for 3 cigars a month or $50.95 for 5 cigars a month – Click Here to Order
8. A Bourbon Mask
Still trying to express the importance of social distancing and mask wearing to your dad? Get him a fun mask he'll actually want to wear. These masks will allow him to express his feelings without showing his face.
$9.99-$30 – Click Here to see our favorite bourbon masks and where to find them
The post 8 Bourbon Gift Ideas for Dad this Father's Day appeared first on The Bourbon Review.